I Heart this Bag
As I've written before, I'm on a search for a good solid bag that is truly built for the urban womyn warrior. This fall, I thought I would treat myself to a statement bag that would truly last. I dragged one of my oldest and most dutiful friends to the Coach outlet, certain I was going to find the perfect bucket bag for all my gear: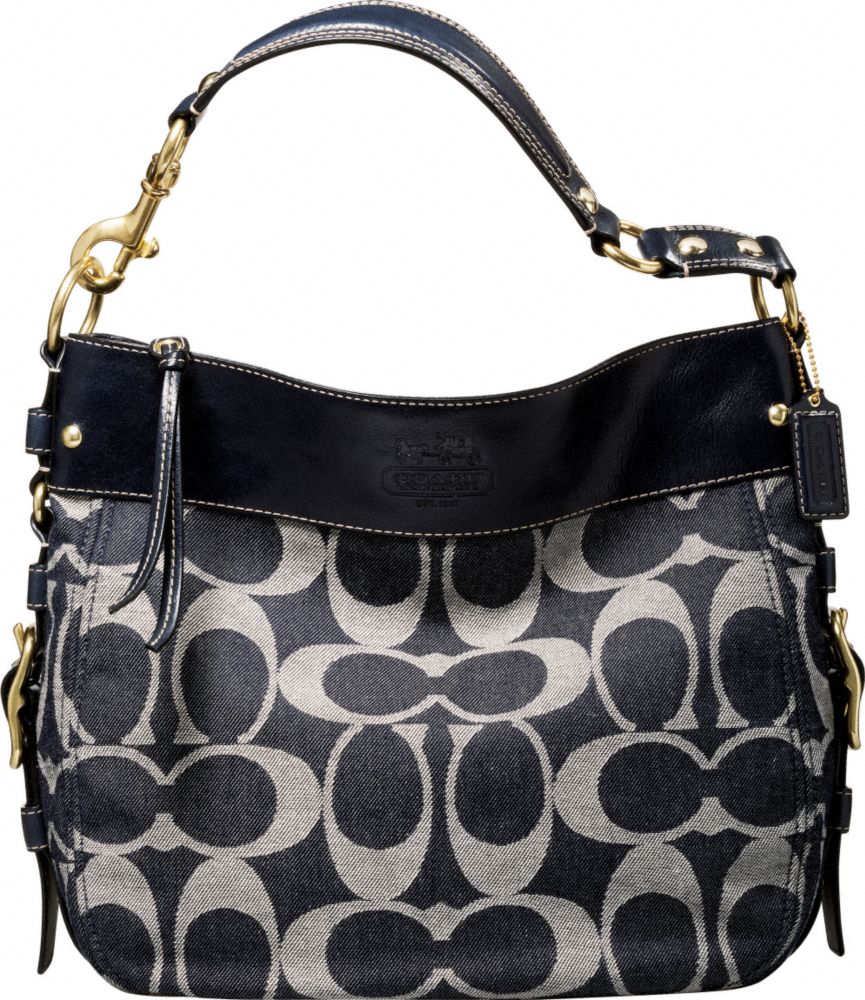 But it wasn't to be – for one, its the outlet store, so new designs weren't there. Second, the idea of spending $400 on a bag, even as I declare myself a fahsionista, makes me physically ill. I mean, sweaty palms, pass out on a whim, the popo is coming for my behind, ill. I start obsessing: what else should I really be doing with this money?, don't I need to buy a home?, what if I don't like it?, how dare I buy this when so many people suffer, who made this bag – an Indonesian child with elegant fingers, paving the way for my fashionista moment? And then the bag goes right back on the shelf. Nevermind, that the cheaper bags are more likely to be made in sweatshops.
My previous strategy was to buy a $40 – $50 bag, which would then fall to pieces after one season with me. I am tough on bags. My favorite bag from last year, was a Kenneth Cole Reaction bag, made out of nylon. It is perfect, though after a season with me, it has lost its lining. I am in search of a good place to get that replaced and then Kenneth and I, will be back in action: 
Meanwhile I am lusting after this gorgeous gray bag also by Kenneth Cole. For this, I may have to splurge. It's actually the near perfect bag of my earlier description (Deciphering Fall Fashion – Part I).
And this one, from the Kenneth Cole Reaction line which I have in Sunflower Yellow (take that cold gray days of winter!):
This week, I discovered (wait, learned about, excuse me, who am I Columbus?) Amici, http://www.amiciaccessories.com/, which has great looking affordable bags. I have my eye on this great purple bag:
This bag is from Shiraleah and is close to the one I found at Amici – except that the pocket has a magnetic closure, making it easy to close, while walking and with one hand.
 This bag is from Perlina:
My new strategy is to get high quality pieces that will last, but I am also really dedicated this season to:
1.) Resisting label lust
Building a sophisticated, comfortable, well-tailored wadrobe without spending inordinate amounts of money. If that means 2 news things, that's better than the wastefulness of 6 new things, which fall apart and have to be thrown away in 3 months.
2.) Paring purchases down.
Only purchasing things that I truly need or cannot live without. And for each purchase, something must be donated to a group like Dress for Success (http://www.dressforsuccess.org/), Hannah's House (http://www.hannahhouse.org/), or Community of Hope (http://www.communityofhopedc.org/)
3.) Gifting! Sharing the things I love or think would be great for others with them. Something perhaps that they'd really like and want.
SHOP-A-HOLICS ANONYMOUS
For fans of Becky Bloomwood from Shopaholic, guess what's being made into a movie! Check out www;buzzsugar.com – http://buzzsugar.com/1913671. Yes! The trailer was on during last night's premiere of 90210 – more on 90201 and their inability to find a diverse cast in another post.
TUNE IN TO PALIN
Sarah Palin, the presumptive Republican nominee for Vice President, gives her speech tonight. I will be watching – you should tune in too.
PREDICTIONS
The GOP, is often known for the "October suprise," a calculated politically charged event released close to the election.  My predictions for this election's "October surprise" are:
1. Osama bin Laden is captured. Newscasters, especially on Fox, due to all their excitement (they say) keep inverting Obama and Osama.
2. We are "forced" to attack Iran, after of course, discovering (Columbus-style) that the Iranians have WMD.
3. We are "forced" to attack North Korea because they are building nuclear weapons and such…
4. Michelle Obama's undergrad thesis will be released, with inexplicable new additions and edits.
5. The terror threat alert will be raised.
What's your choice for the "October surprise?"